On Wednesday, long-time Dodger Andre Ethier officially announced his retirement. The Dodgers will recognize his successful career at Dodger Stadium on August 3rd.
Andre Ethier was and always will be an all-time favorite for Dodger fans. In Ethier's twelve seasons with the Dodgers, two of those seasons he played under 25 games each. In 2016 he played only 16 games and last season totaled just 25 games. He is a lifetime .285 during his renowned baseball career in Los Angeles.
Ethier's success led him to two All-Star games, a Gold Glove, and a Silver Slugger award. Andre Ethier, also known as "Dre" or "Captain Clutch", continuously gave Dodger fans a reason to love him. Captain Clutch did it all and much more. Let's talk a stroll down memory lane.
R.I.P. Bat
All major league players have taken their frustration out in multiple different ways. Whether it be taking it out on the cooler (my personal favorite), or yelling viciously while storming down to the clubhouse. In a regular season contest against Oakland in 2015, Andre Ethier ripped one to first base but was caught by Ike Davis. Following the out, Ethier had plans of his own when showing how he really felt.
Storming back to the dugout in frustration, Dre tosses his helmet down and aggressively hammers his bat against the bat rack numerous times in a sledge hammer-like fashion. In the words of the legendary Vin Scully, he described Ethier's actions with a "get it out son". Classic Vinny.
The Streak
When I think of a hitting streak, the first individual that comes to mind is, of course, Joe DiMaggio. DiMaggio holds the record for the longest hitting streak in baseball history at 56 games. During that streak, DiMaggio hit for a .408 average alongside 15 homers.
In 2011, Dodgers outfielder Andre Ethier was chasing history. Ethier lined a single to centerfield to extend his hit streak to thirty games. His next appearance he went 0-4, snapping his remarkable run at history. Ethier is tied with many other with his 30 game hit streak.
It is still pretty remarkable to think that DiMaggio went 56 straight games. Dre went 30 straight games and he was still well short of even getting a sniff at the all-time record.
Captain Clutch
When you have earned the name "Captain Clutch", you know you made it. When it comes to Andre Ethier, the name Captain Clutch fits his perfectly. From the 2008 season to 2010 season, Ethier recorded eleven (11!) walk-offs in that span. He led all of baseball in walk-offs in that time frame. The next guy closest to him was Kurt Suzuki with four walk-offs.
Ethier's most dominant year, as far as walk-offs go, was the 2009 season. Dre walked it off six times in that season, including three in the month of June. The following year, in which Ethier had two walk-offs, one of those two stood out the most.
On a beautiful May night in Los Angeles, the Dodgers and Brewers are tied at three in the bottom of the ninth inning. With LaTroy Hawkins on the bump, Ethier steps to the plate with the bases full of Dodgers and only one out. On a 2-2 count, Hawkins pipes a fastball down the center and Dre sends it over the center field wall. The center fielder at the time, Jim Edmonds, didn't move even an inch. Dodgers win it 7-3.
The "Captain Clutch" era was in full stride, and Dodger fans loved every moment of it.
Rookie Season
Andre Ethier was drafted by the Oakland A's in the 2nd round of the 2003 draft. Ethier was traded to the Dodgers towards the end of 2005, prior to the 2006 season. The Dodgers sent over Milton Bradley and Antonio Perez in the deal. Bradley had a decent two seasons in Los Angeles, hitting .275 in 216 games played.
The 2006 season was one Ethier will never forget. This was not only his first year in LA, but his rookie season as a professional baseball player. Andre Ethier recorded arguably one of his best seasons of his career in 2006. At the age of 24, Dre hit the cover off of the ball, and he never looked back. At one point his average had topped out at .354, but slipped up towards the end of the season.
Finishing the season recording a .308 average and .842 OPS, Ethier was one of the front runners in the Rookie of the Year voting. He finished 5th in the voting despite having an outstanding season. Dre was alongside teammates such as Nomar Garciaparra, Kenny Lofton, and Rafael Furcal that hit over .300 that season.
The Stare Down
With a 3-1 Dodgers lead against Milwaukee in 2013, Andre Ethier is up to bat. Mike Gonzalez has Ethier in the hole with a 0-2 count. The following pitch sails way over Ethier's head. Not very often do you see that. Dre looks back at the ball, then turns around with a puzzled look on his face. The 1-2 pitch is low and away and Dre chases it for strike three.
After the strikeout to end the inning, Ethier makes his way back to the dugout and begins to argue with the home plate umpire. Well, you know what happens next. Dre gets tossed immediately. As coaches and staff escort him down to the clubhouse, Ethier stops and displays some sort of death stare towards home plate umpire Dan Bellino. Bench coach Trey Hillman slightly pushes him down the steps, then Ethier steps back up for one more look. Meanwhile, Dan Bellino never took his eyes off of Ethier.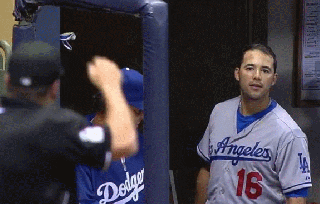 Ethier possessed the final stare between the two of them. It was quite the staring contest to stay the least.
Career Round Up
Yes, I'm certain that there are many more memories that could have been recognized. Andre Ethier was not only a professional on the field, but an all around great guy. Dre continued to stick around despite younger players passing him up due to being sidelined with multiple injuries.
We will all never forget game seven of the 2017 World Series when Ethier came in to pinch hit. Captain Clutch, the man himself, promptly singles in the bottom of the 6th inning to give the Dodgers their only run of that game. Fitting enough, that was Ethier's final at-bat not only as a major leaguer, but as a Los Angeles Dodger.
[button color="red" size="big" alignment="center" rel="follow" openin="samewindow" url="https://www.dodgersnation.com/game-preview-yasiel-puig-set-to-return-to-dodgers-lineup/2018/07/28/"]Game Preview: Yasiel Puig Set to Return To Dodgers Lineup[/button]